Fundraising or donating in memory
---
Giving in memory is a special way to remember a loved one whilst making a valuable contribution to Poole Hospital Charity in their name. We are always grateful that our donors consider us at such a difficult time.
There are a number of ways you can give in memory:
---
Order 'In Memory' envelopes
We have designed 'in memory' collection envelopes for use at funerals or memorial events.  To order collection envelopes please contact the fundraising office on 01202 448449 or email fundraising@poole.nhs.uk
Funeral Memorial Donations
Arranging Funeral Memorial Donations in lieu of flowers, is a special way of remembering a loved one. We work closely with Funeral Directors who will organise the collection on your behalf and arrange the transfer of funds directly to Poole Hospital Charity. If you would like to discuss your wishes or would like any further information, please ask for Victoria on 01202 448449 .
Create a tribute page in memory of a loved one
You can use Just Giving to set up a tribute page to remember a special person in a personal and unique way. Once set up, you can share the page with family and friends who can make donations and leave messages of remembrance.
You can also give a regular gift in memory of a loved one either monthly or annually here.
Fundraise in memory
If you would like support with your fundraising in memory event/activity please contact the fundraising team 01202 448449 or visit our fundraising pages for information and inspiration.
In Focus : A Vision for Vincent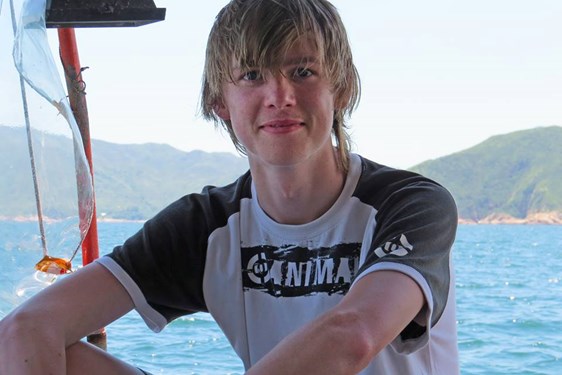 In April 2016 we met Carl and Tanya Appleby who wanted to start fundraising for Durlston Ward. Sadly their son Vinnie lost his battle with Leukaemia and they felt compelled to fundraiser for the ward and make a positive difference to help others in a similar position.
After spending time on Durlston Ward at Poole Hospital, it was clear that the area would benefit hugely by developing a Teenage and Young Adult Unit for patients with Cancer. The unit was to be the first of its kind in Dorset, ensuring patients like Vinnie, benefit from an environment and surroundings more appropriate to their age and circumstances.
Over a period of just 12 months, Carl and Tanya raised a staggering £35,000 for A Vision for Vincent. Vinnie's determination inspired many to fundraise in his memory. Skydives; cakes sales; raffles and parties were just a few ways that helped raise the money needed for the ward.
Fundraising to realise Vinnies dream has been a wonderful way of honouring his memory and producing something positive for other teenagers who are facing a battle with cancer. In July 2017 we opened 2 Teenage & Young Adult In-Patient Cancer facilities with charitable funds totalling £180,000 and helped largely thanks to Vinnie's dream and his family's dedication. Carl and Tanya were invited to see the opening of the facilities that they contributed so heavily towards in Vinnie's memory.
For more information please visit their Facebook page https://www.facebook.com/A-Vision-for-Vincent-1550353491921497/